Refurbished computers are a great way for individuals and businesses to access new technology while staying within their budgets. New computers are expensive, but did you know you can get the same great performance from a refurbished computer?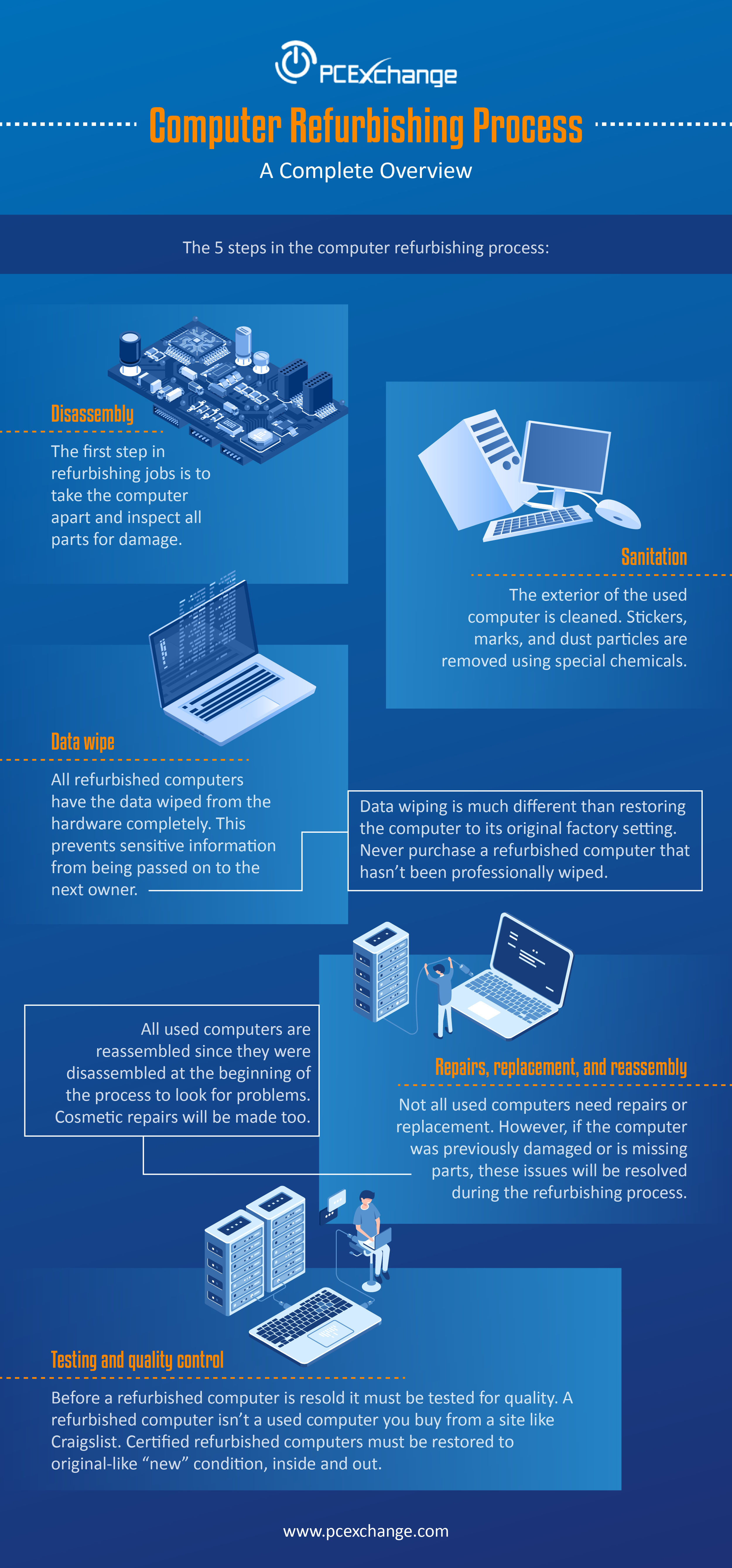 Learn more about the steps in the computer refurbishing process to decide if this is the right option for you.
Disassembly: The first step in refurbishing jobs is to take the computer apart and inspect all parts for damage.
Sanitation: The exterior of the used computer is cleaned. Stickers, marks, and dust particles are removed using special chemicals.
Data wipe: All refurbished computers have the data wiped from the hardware completely. This prevents sensitive information from being passed on to the next owner. Data wiping is much different than restoring the computer to its original factory setting. Never purchase a refurbished computer that hasn't been professionally wiped.
Repairs, replacement, and reassembly: Not all used computers need repairs or replacement. However, if the computer was previously damaged or is missing parts, these issues will be resolved during the refurbishing process. All used computers are reassembled since they were disassembled at the beginning of the process to look for problems. Cosmetic repairs will be made too.
Testing and quality control: Before a refurbished computer is resold it must be tested for quality. A refurbished computer isn't a used computer you buy from a site like Craigslist. Certified refurbished computers must be restored to original-like "new" condition, inside and out.
Are you looking for an affordable refurbished computer? Contact PCExchange for a wide selection of refurbished desktop computers and laptops. Refurbished computers from PCExchange are great for personal use, students, and offices. You'll find brands such as Dell, IBM, Apple, and HP. Don't see the computer or laptop you want? PCExchange refurbishes computer constantly. Sign up for their wish list and get an alert when the product you're interested in becomes available. No matter what your budget or computing preference, count on PCExchange to find the right fit for you. View the current stock available at https://www.pcexchange.com or call (508) 788-6326 to speak with a member of the PCExchange staff.